The seal hunting constitutes an important part of Harstena's history. In the old tax records from the 16th century one can see that seal hunting was of great importance and surely the seal attracted the fist settlers to the island.

Harstena's barren islands have probably been the largest place of gathering for grey seals along the entire east coast. In the end of the 20's as many as 40,000 seals were counted on the islands around Harstena.

The seals used to be caught by nets deployed around the islands. The clubbing of seals, which Harstena is known for, started as late as in the 20th century.

Hunting seals was an important source of income until the start of the 40's when hunting stopped due to falling prices. During the 60's and 70's almost the entire seal rookery in the Baltic Sea was wiped out due to pollutants. Not until the 90's there were distinct signs showing that the seals were recovering. Today there is a seal protection area established outside Harstena where a small seal colony of 50-60 animals are slowly growing in numbers.

The first three pictures were taken by Prince Vilhelm in july 1947. In the boat with the Prince is Elof Magnusson and in the rowing boat is the remainder of Harstena's seal-hunting party, Hugo, Evert, Paul and the rest. The last picture of Hugo Magnusson was taken in 1954.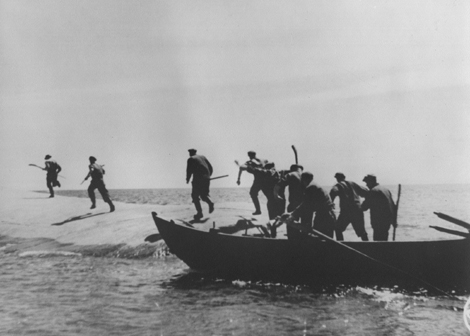 The hunters rush ashore, armed with their clubs and iron crampons under the boots so not to slip on the slippery flat rocks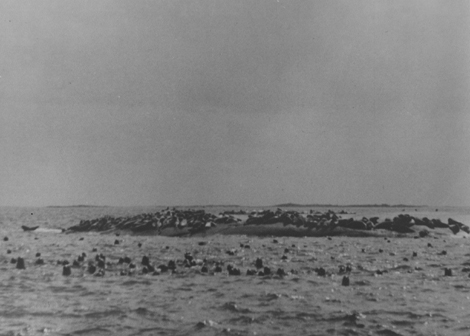 On a good day, especially after a storm, many thousands of seals could gather at the outer islands outside Harstena. The photograph shows Sörbådan with Stupskär in the background.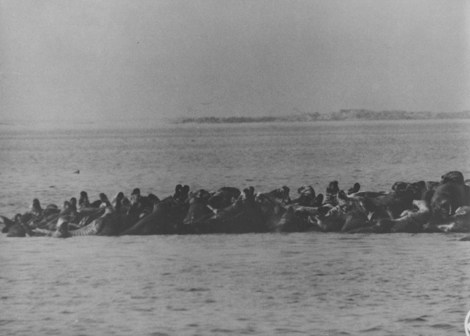 The seals are densly packed on the small rocky islets.

Kayak and harpoon were used when hunting for household use.